Building my First Bass Guitar
Posted
Tak­ing the di­gres­sion from my last two posts to the ex­treme and the rea­son for half a year of ra­dio si­lence: I built a bass gui­tar! This post is a bit of a pho­to-blog of my first ven­ture in­to luthiery, so you've been warned, there are many im­ages ahead.
Why build a bass gui­tar in­stead of just buy­ing one and retrofitting the poly­phon­ic pick­up and cus­tom elec­tron­ics? Nor­mal­ly, I'd say "be­cause I can," but be­ing my very first at­tempt, I very much can't (yet). The re­al rea­son: be­cause none I could find match ev­ery­thing I want­ed and al­so be­cause I've been watch­ing a lot of gui­tar builders on YT over the past cou­ple of years and I just want­ed to 😁. Due to my lack of ex­pe­ri­ence in luthiery, wood­work­ing, or tru­ly any "prac­ti­cal" skill, I de­cid­ed to go with a kit build. And since my fa­vorite gui­tar build­ing YTer (Crim­son Cus­tom Gui­tars, if you're won­der­ing—no af­fil­i­a­tion or spon­sor­ship, as with all prod­uct names list­ed in this ar­ti­cle) al­so does kits and even cus­tom kits, the choice where I'd get it was easy.
Since I want­ed to go with a very… anachro­nis­tic style, I de­cid­ed to com­bine el­e­ments from mul­ti­ple pe­ri­ods, I based my de­sign off the first mass-pro­duced bass gui­tar: the Fend­er '51 pre­ci­sion bass. So I spec­i­fied the fol­low­ing for the kit: a rear-rout­ed ash '51 P-style body and a roast­ed maple neck with ze­ro fret, no fret­board in­lays, and a re­verse '51 P-style head­stock. That's at least three sig­nif­i­cant de­vi­a­tions from the orig­i­nal there, which is front-rout­ed, doesn't have a ze­ro fret, and most cer­tain­ly doesn't have an '80s met­al gui­tar re­verse head­stock. A fourth mod­ern de­vi­a­tion was spe­cial side dots. What kind of spe­cial side dots? The kind they didn't car­ry, so I had to do those my­self 😲 (they were nice enough to pre-drill the holes to the right size though). Since I on­ly have two hands and no tri­pod, I on­ly have pho­tos of the re­sult which didn't turn out too bad, me­thinks: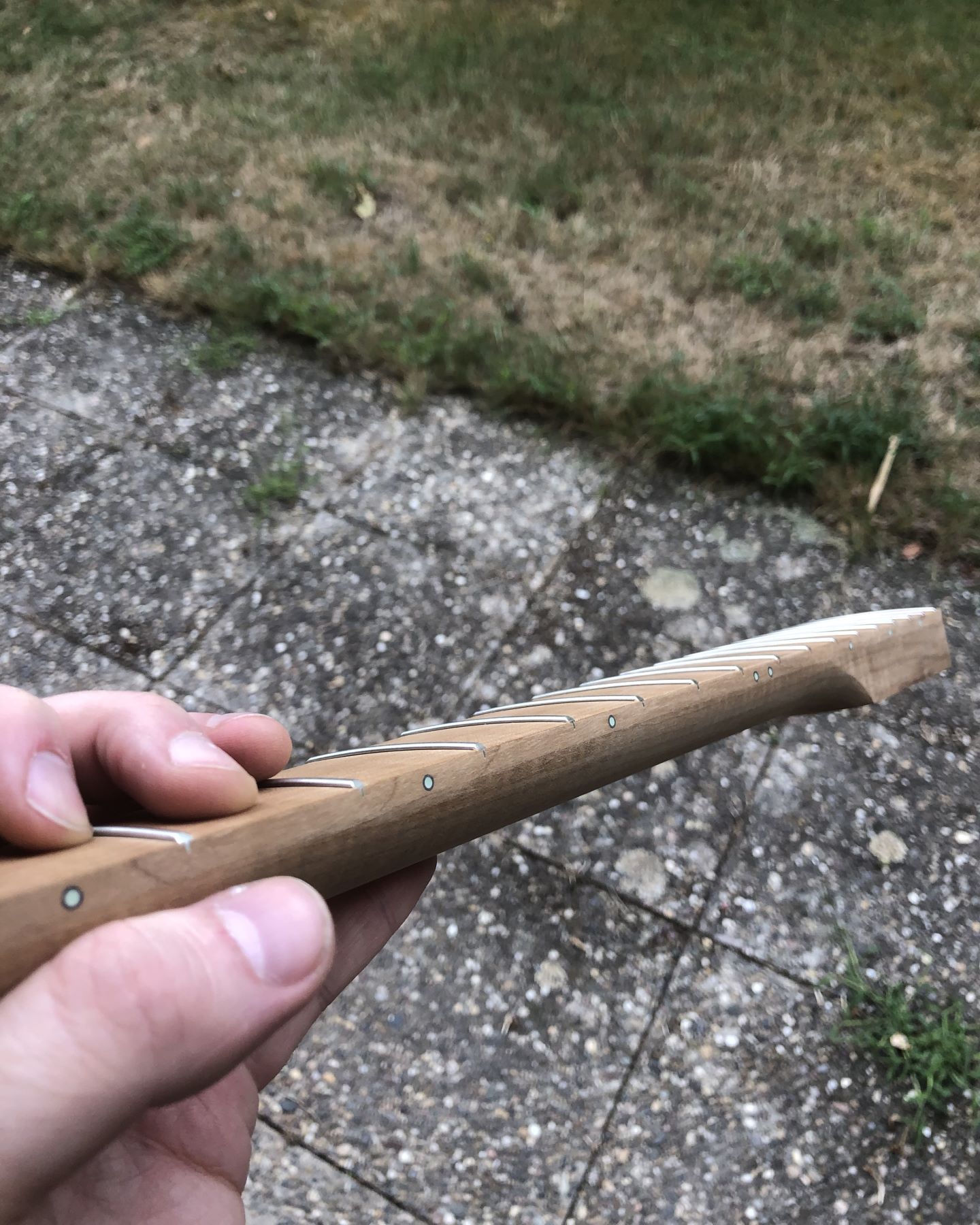 See what's spe­cial about them yet? No? Then just scroll down a lit­tle fur­ther.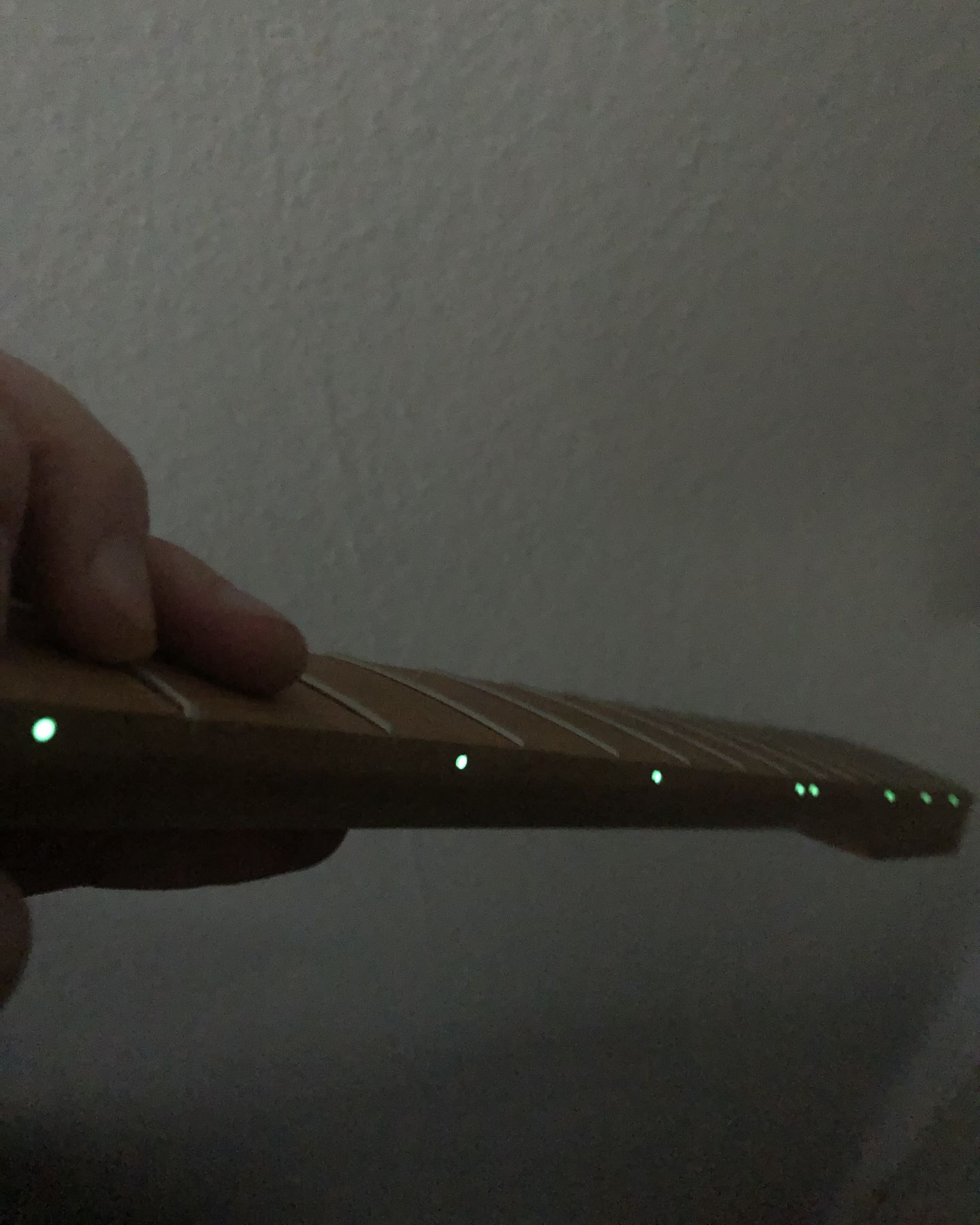 Yup. I'm now an of­fi­cial mem­ber of the glowy dots gang 👽. Lu­min­lay, if you didn't rec­og­nize them. What did the in­stal­la­tion evolve? Su­per­glue, a side cut­ter, a file (which I didn't have be­fore), mask­ing tape as a stop­per for the file, and 6 or so grades of sand­pa­per (which I didn't own be­fore ei­ther). Spoil­er: mask­ing tape, files, and lots of sand­ing are re­cur­ring themes in gui­tar build­ing. Much like in the next step, which was to do the fret­work on the neck:
This step al­so in­volved a notched straight­edge, which is a spe­cial­ized straight­edge for luthiers to check if a neck is straight un­der­neath the frets, sev­er­al tiny files, a "sand­ing beam" (a met­al beam with a very flat side you af­fix self-stick sand­pa­per to), and var­i­ous abra­sives. At this point, imag­ine a cou­ple of im­ages of me drilling nu­mer­ous holes in­to the parts of the kit:
Holes for the con­trol knobs. Holes for the neck screws (well, ac­tu­al­ly bolts for a lit­er­al bolt-on neck in this case). Holes for the neck bolt fer­rules. Holes for the bridge mount­ing screws. Holes for the thread­ed in­serts to match the bolts. This last step near­ly went cat­a­stroph­i­cally wrong. The first in­sert caused large splin­ters to lift from the neck. Turns out roast­ed maple is hard, but in­cred­i­bly brit­tle. In the end, I drilled the holes at al­most ex­act­ly the out­er thread di­am­e­ter and se­cured the thread­ed in­serts with lots of glue. Very glad that part is nev­er vis­i­ble.
Oh, and guess what. I didn't have any of the nec­es­sary drill bits. Told you I have no ex­pe­ri­ence with any prac­ti­cal skills 😅 I al­so had to en­large the holes for the tuners which were much small­er than nec­es­sary. I used a step drill bit (de­signed for sheet met­al but works well on wood as well) and a ream­er. Two more tools to ac­quire.
Oh, you thought those were all the holes I had to drill? Nope. Sev­er­al more and the worst one was the next. Re­mem­ber that I want­ed to in­stall a poly­phon­ic pick­up? Well, poly­phon­ic pick­ups mean more or larg­er pick­up wires. Larg­er than the typ­i­cal hole for pick­up wires: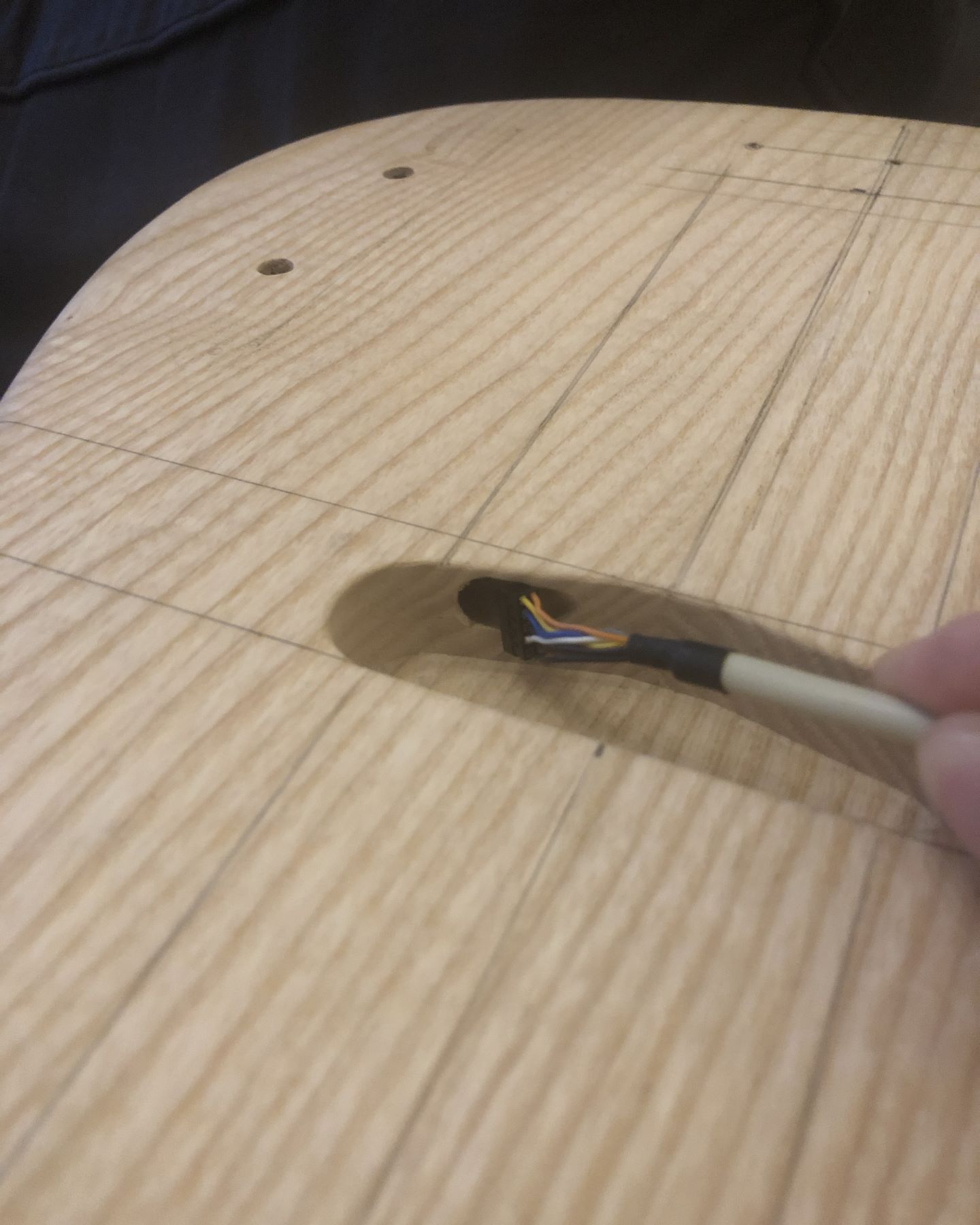 That won't fit. Can't get a 10 mm×4 mm con­nec­tor through an 8 mm hole. Since that cor­re­sponds to a 10.77 mm di­ag­o­nal, and I want­ed at least some mar­gin so that the con­nec­tor doesn't get stuck dur­ing in­stal­la­tion, I de­cid­ed I had to drill (at least) a 12 mm hole. I had to think about this a bit, since the "drilling di­ag­o­nal­ly from the pick­up rout" tech­nique that a ma­jor­i­ty of luthiers seem to use wouldn't re­al­ly work for a 12 mm hole, es­pe­cial­ly con­sid­er­ing how close the much small­er ex­ist­ing hole was to the top (and to the back on the oth­er side).
At that point, I de­cid­ed to drill the holes for the stan­dard ¼ inch au­dio jack and the poly­phon­ic con­nec­tor first. Which was al­so scary in it­self since the poly­phon­ic con­nec­tor I de­cid­ed on re­quired a 24 mm hole (read medi­um-sized Forstner bit, not re­al­ly what you want to use with a hand-held drill as a be­gin­ner) and much small­er mount­ing holes very close (less than 3 mm of wood left) to that main hole, but in the end it worked out all right (or so I thought, more on that lat­er):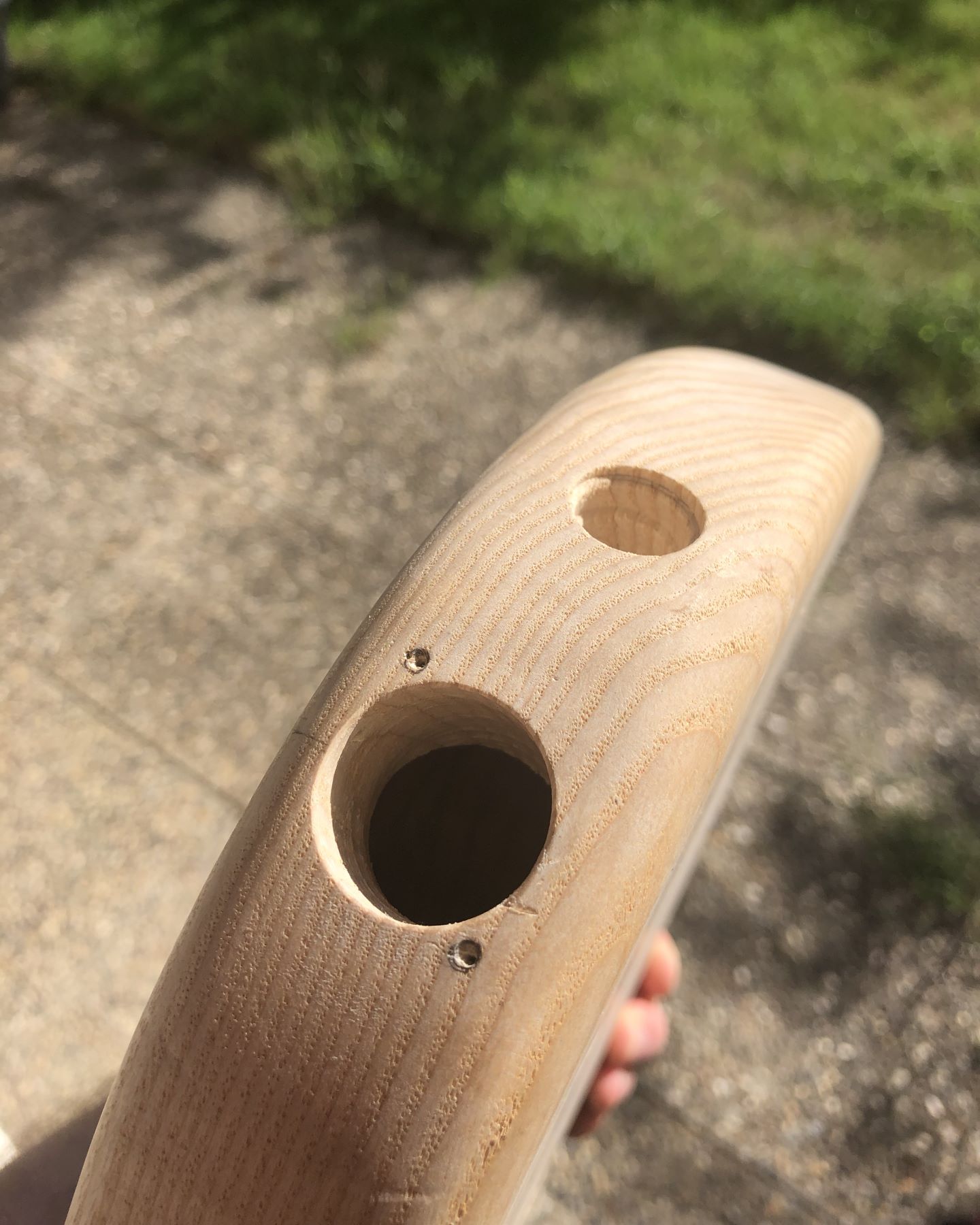 At that point I had an idea 💡, maybe I could drill through one of those holes par­al­lel to the body! So I trans­ferred the po­si­tion of the pick­up rout to the back of the body as well as I could with a lit­tle plas­tic ruler (you think I have prop­er rulers and a square? Ha!) and laid out a plan for drilling:
This could work, so I or­dered the scary bit (pun in­tend­ed):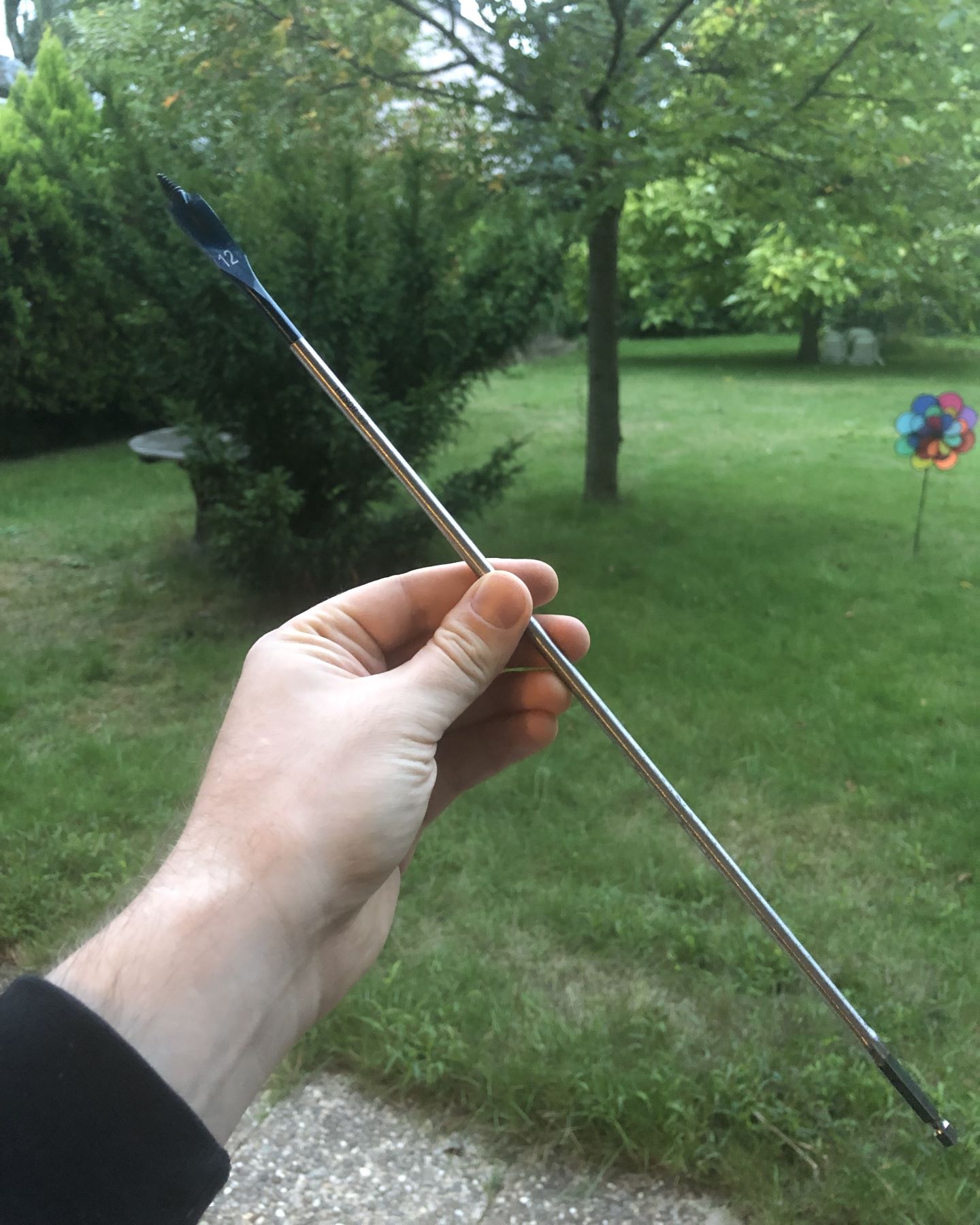 Yup. That's a 40 cm long, 12 mm spade drill bit. Scary. Two big ad­van­tages to us­ing a spade bit for this though:
It costs about a tenth of a sim­i­lar size and length spi­ral bit
The shaft is much thin­ner than the tip, so I get a lot more ma­neu­ver­abil­i­ty while drilling through the con­nec­tor holes at the side
To avoid any thin walls, I glued and ham­mered a piece of 8 mm beech rod in­to the old wire chan­nel. Since I had to cut it off in­side the pick­up cav­i­ty, where no saw would reach I used a chis­el to trim the rod to size. Then af­ter some more plan­ning, check­ing, and re-check­ing—and a lot of sweat­ing, no blood or tears though—I man­aged to drill the hole cor­rect­ly!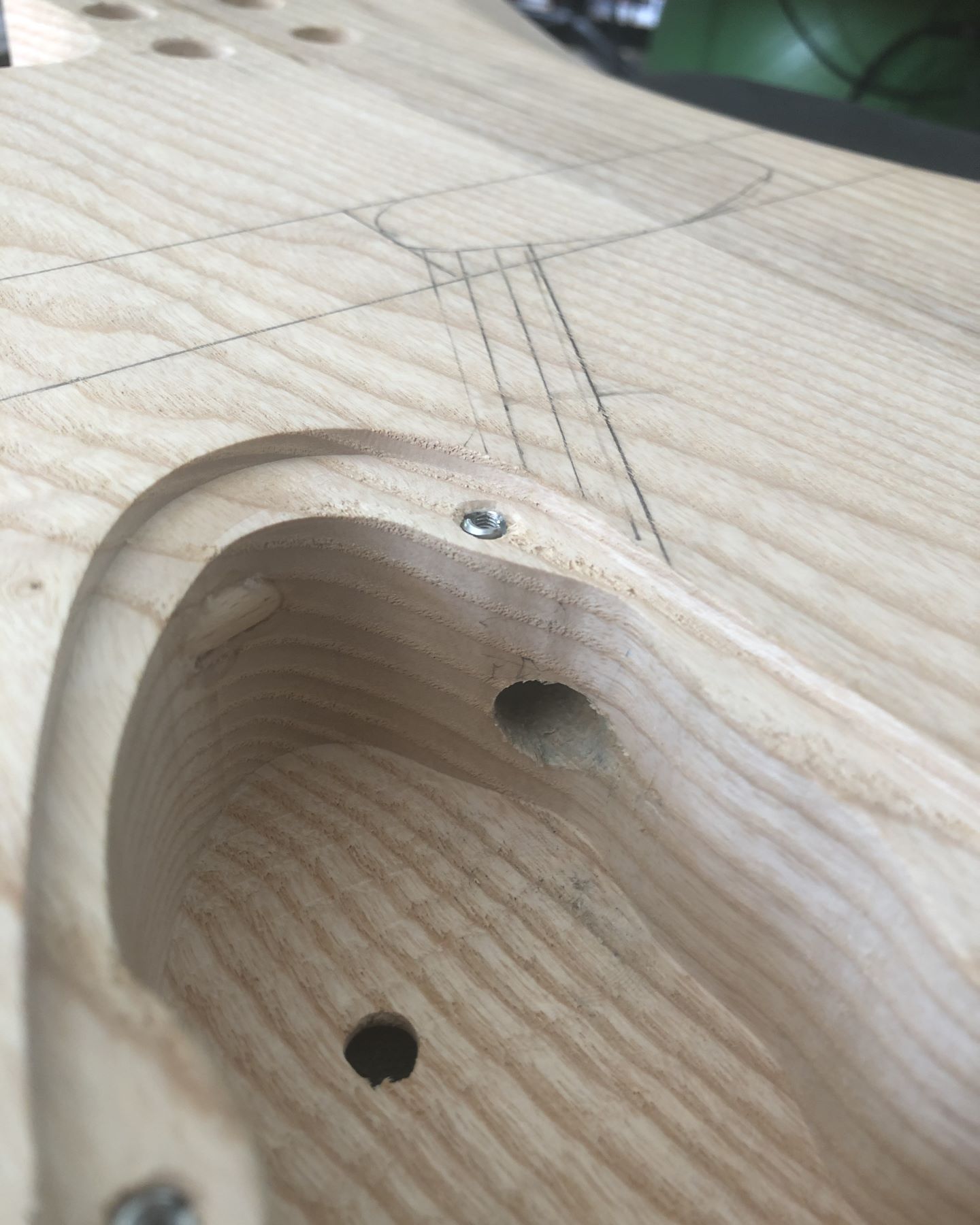 (See that bit of beech rod at the side? Told you the orig­i­nal hole was al­ready a close call on both sides!)
Now let's close it up (pret­ty awe­some grain match­ing I must say, thanks Crim­son!) with some Torx (for that mod­ern high-tech look) bolts to match the neck bolts: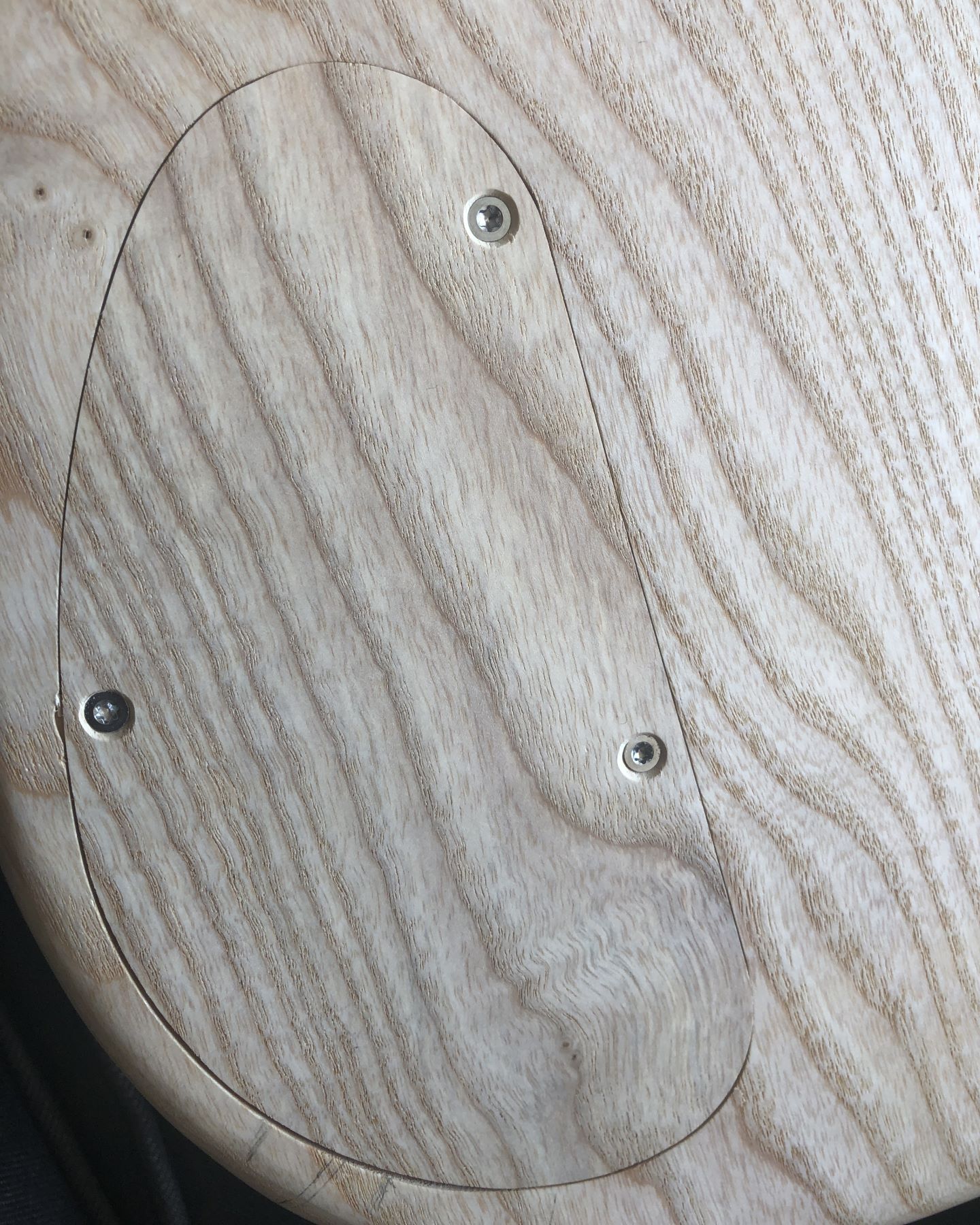 Now let's in­stall that poly­phon­ic con­nec­tor…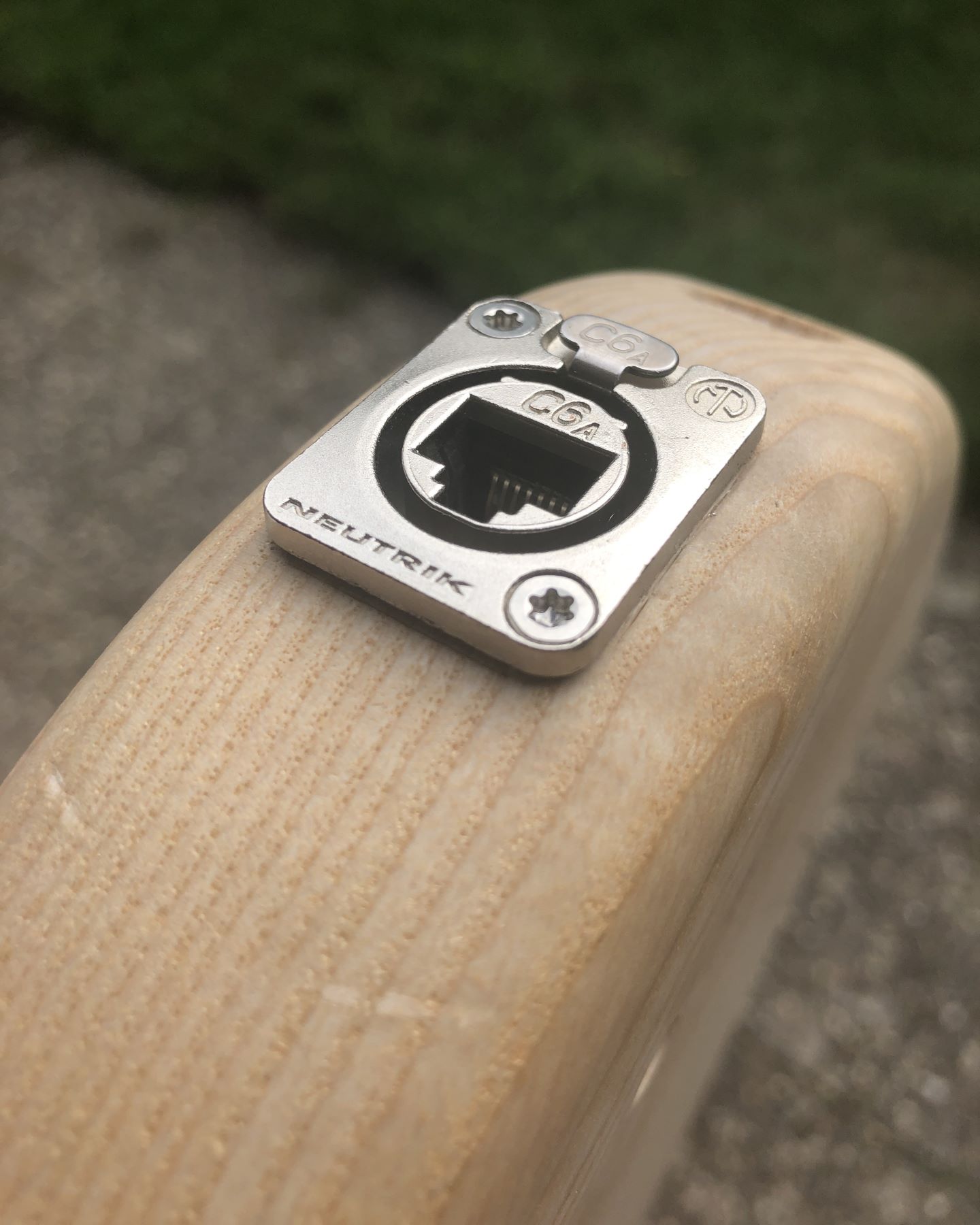 Well that won't do. Can't have it stick­ing out like that. First off, it looks ug­ly. Sec­ond, you are just bound to catch some­thing on that gap.
Oh, and yes, I put an RJ45 sock­et in­to my bass gui­tar 😁 "Wait, Eth­er­net in a bass gui­tar?!," I hear you say, "Are you out of your mind?" Well the an­swers to that are "no" and "pos­si­bly, since I think that would be awe­some." I'm just plan­ning to use the four twist­ed pairs in an Eth­er­net ca­ble to trans­mit four bal­anced sig­nals—one for each string— in­to an RJ45 stage­box which con­verts to four XLR con­nec­tors (yes, you can buy these pre-made). And Eth­er­net ca­bles are much cheap­er than most oth­er poly­phon­ic gui­tar ca­bles since you can buy them off the shelf. And since it's bal­anced you can even send P48 phan­tom pow­er over the same wires! I haven't writ­ten any­thing about the ac­tive bal­anc­ing and phan­tom pow­er cir­cuit, be­cause it's not that in­ter­est­ing in my opin­ion, but if you want to hear about it any­way, send me a mes­sage.
But how do we get that con­nec­tor not to stick out? Well, I could try in­lay­ing it and that's pret­ty much what I did, so my first in­lay was an Eth­er­net sock­et! I used a drill for the round­ed cor­ners—at which point I wished I hadn't drilled the cen­tral 24 mm hole yet, since the ra­dius over­lapped with that hole, caus­ing the drill to skip like crazy. Oh well, noth­ing loads of glue and wood dust won't fix. For the straight parts and the in­te­ri­or I used a chis­el again. Hav­ing to do all this in what is es­sen­tial­ly half-way be­tween straight and end grain was not fun. But since you can't see all the is­sues un­der­neath, it ac­tu­al­ly looks ok:
Now, with all the holes drilled there were just a few more steps left. The big­gest one be­ing to do the fin­ish­ing. I re­al­ly love the fin­ish on the ash body of my main Sand­berg bass, which is satin black but with vis­i­ble and tan­gi­ble grain: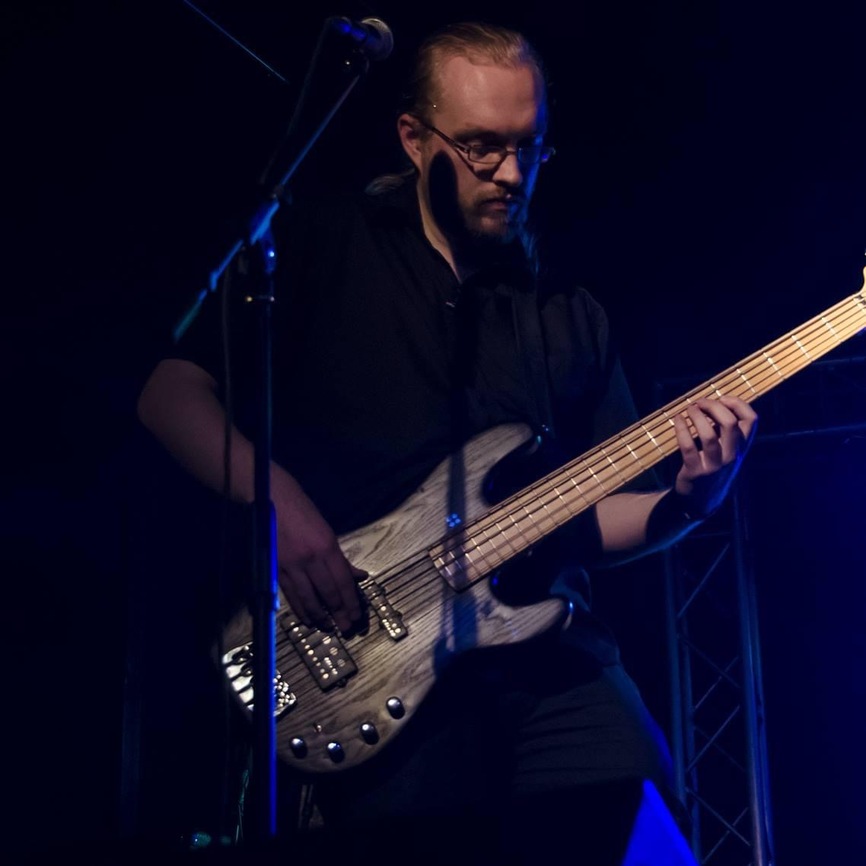 To em­u­late this look I de­cid­ed to try a met­al wire brush to open up the soft grain, sand out any re­sult­ing rough­ness in the hard grain, stain it black, and fi­nal­ly cov­er it with a clear pro­tec­tive fin­ish (I de­cid­ed to use a two-in-one wood primer and fin­ish, not the best choice as it turns out).
So step one, the wire brush. Since I am not a pa­tient per­son, I got an­oth­er scary bit: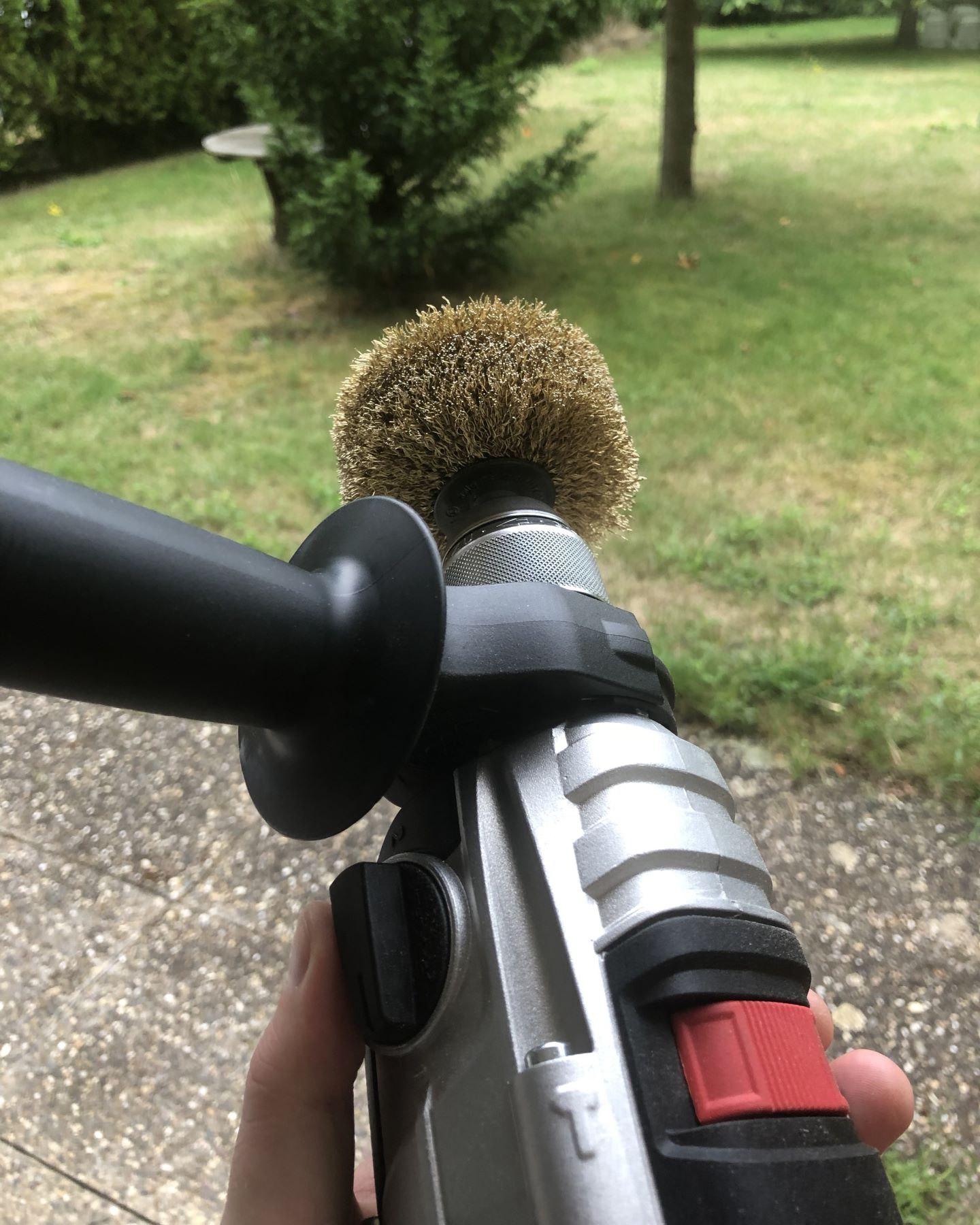 Since I didn't want to take it di­rect­ly to the body I had spent so many hours on al­ready, I did some tests on bits of ash I or­dered on­line: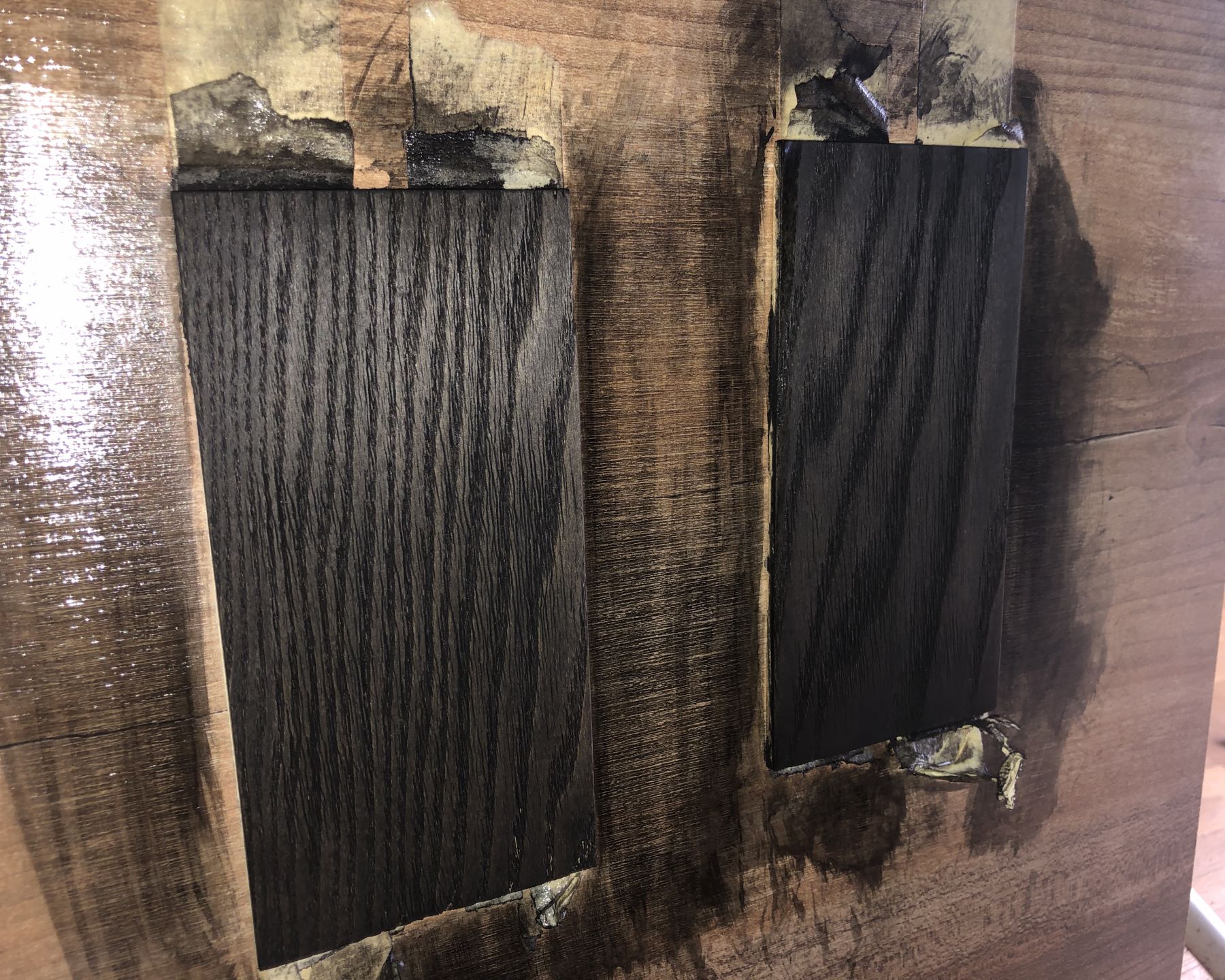 I want­ed the re­sult to be even black­er, so I de­cid­ed I'd stain the body mul­ti­ple times to get it dark­er. Boy did I un­der­es­ti­mate how many times I'd be stain­ing this thing. While two coats of stain did dark­en it to a point I was hap­py with, I made the mis­take of get­ting wa­ter-based stain, which raised the grain, which meant I had to sand it smooth again, which went half­way through the stain in an in­stant with 400 grit sand­pa­per. A process I re­peat­ed at least three times on the en­tire body be­fore the stain didn't sig­nif­i­cant­ly raise the grain any­more.
Then—de­spite ini­tial tests—it turned out I bought an ill-suit­ed fin­ish. Af­ter ap­ply­ing the fin­ish, it ini­tial­ly looked good, but af­ter dry­ing the body was now glossy in some spots and mat­te ev­ery­where else! I tried sand­ing the glossy spots with very fine sand­pa­per (1000 grit or so), which im­me­di­ate­ly went through ev­ery­thing in some spots be­fore even touch­ing the glossi­ness in oth­ers 💩. I had to re-stain and re­fin­ish again.
This time I ap­plied a thick­er coat in hopes that it would at least be con­sis­tent­ly glossy, but no luck. In­stead of glossy in some spots it was now mat­te in some spots and glossy ev­ery­where else 💩💩. I tried sand­ing (again with very, very light sand­pa­per), but the lay­er of fin­ish turned out again to be in­cred­i­bly thin. So I (par­tial­ly) re-stained and re­fin­ished it all again. In the end I had to spray on more of the stuff to get it glossy ev­ery­where, ex­cept it didn't stick to the spots where it was al­ready glossy at all and pooled in­to small droplets in­stead. Oh well, per­ma­nent wet look it is I guess.
Some day I might re-do it all again with a dif­fer­ent type of fin­ish, on­ly is­sue is: the two-in-one wood primer and fin­ish warns to un­der no cir­cum­stances spray acrylic lac­quers over it, so I'd have to strip it all to bare wood, which might prove dif­fi­cult to im­pos­si­ble in the soft grain ar­eas. And un­less you're stand­ing re­al close you don't see it any­way, so I de­cid­ed to as­sem­ble the bass as is. So here go the beau­ty shots: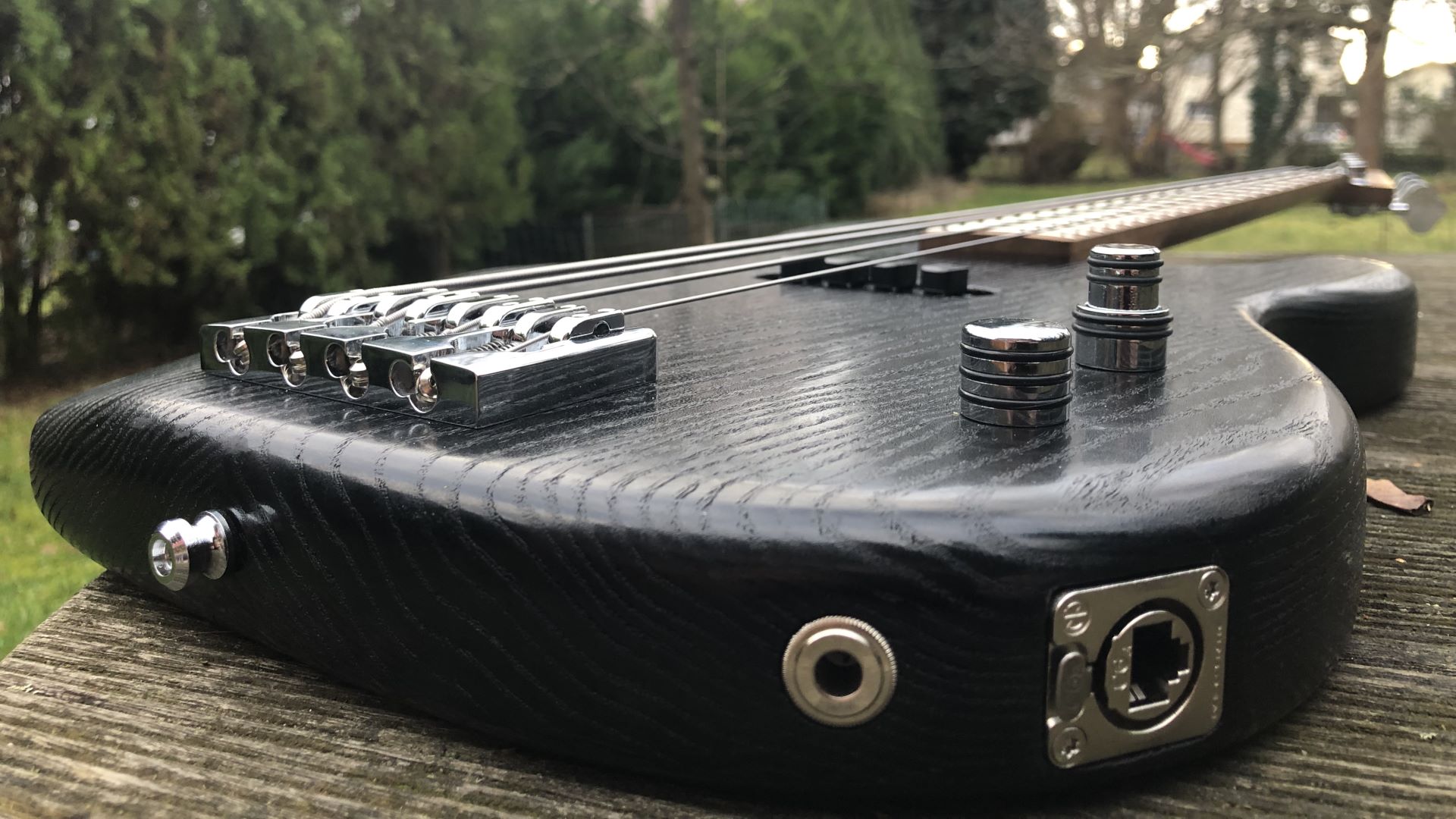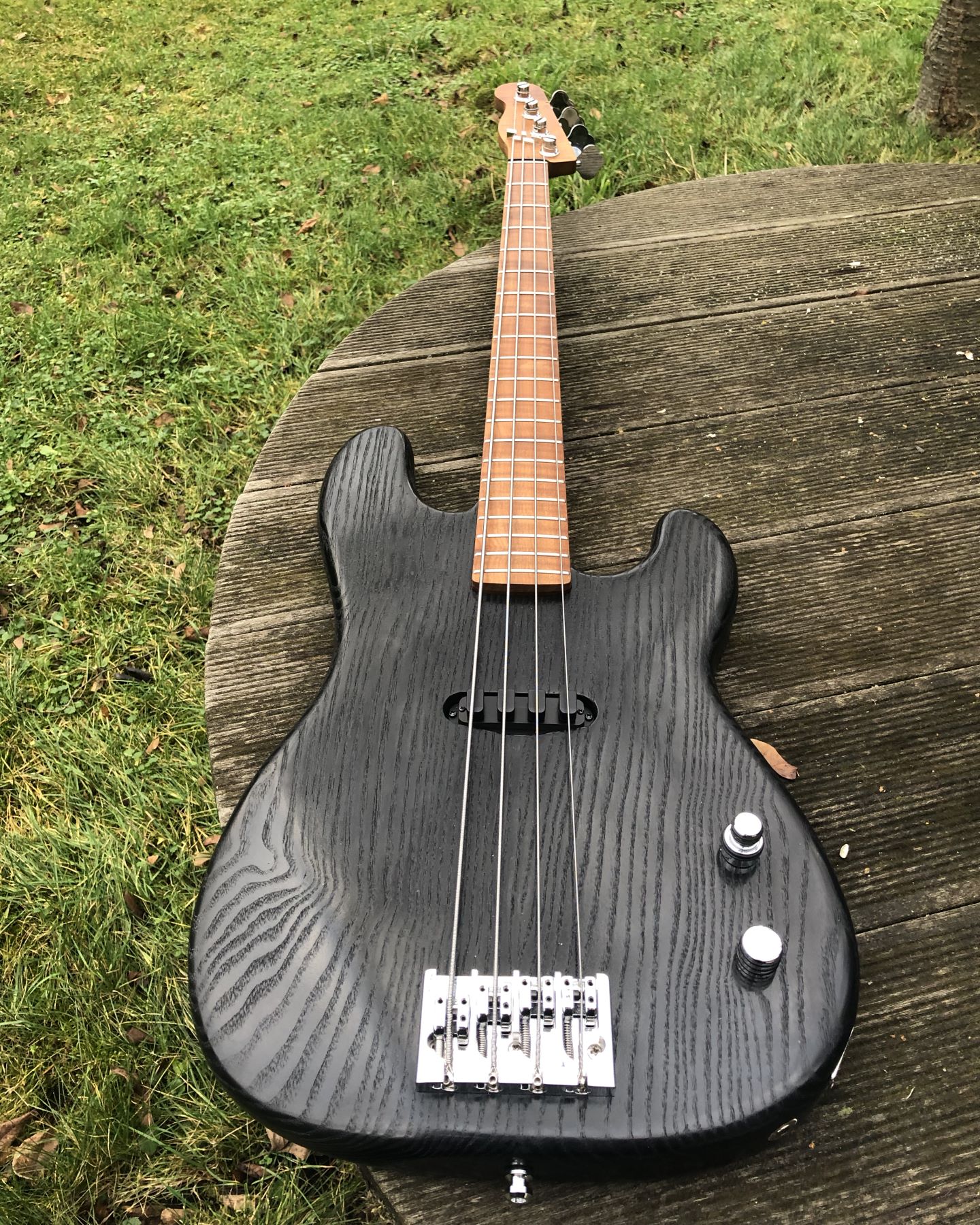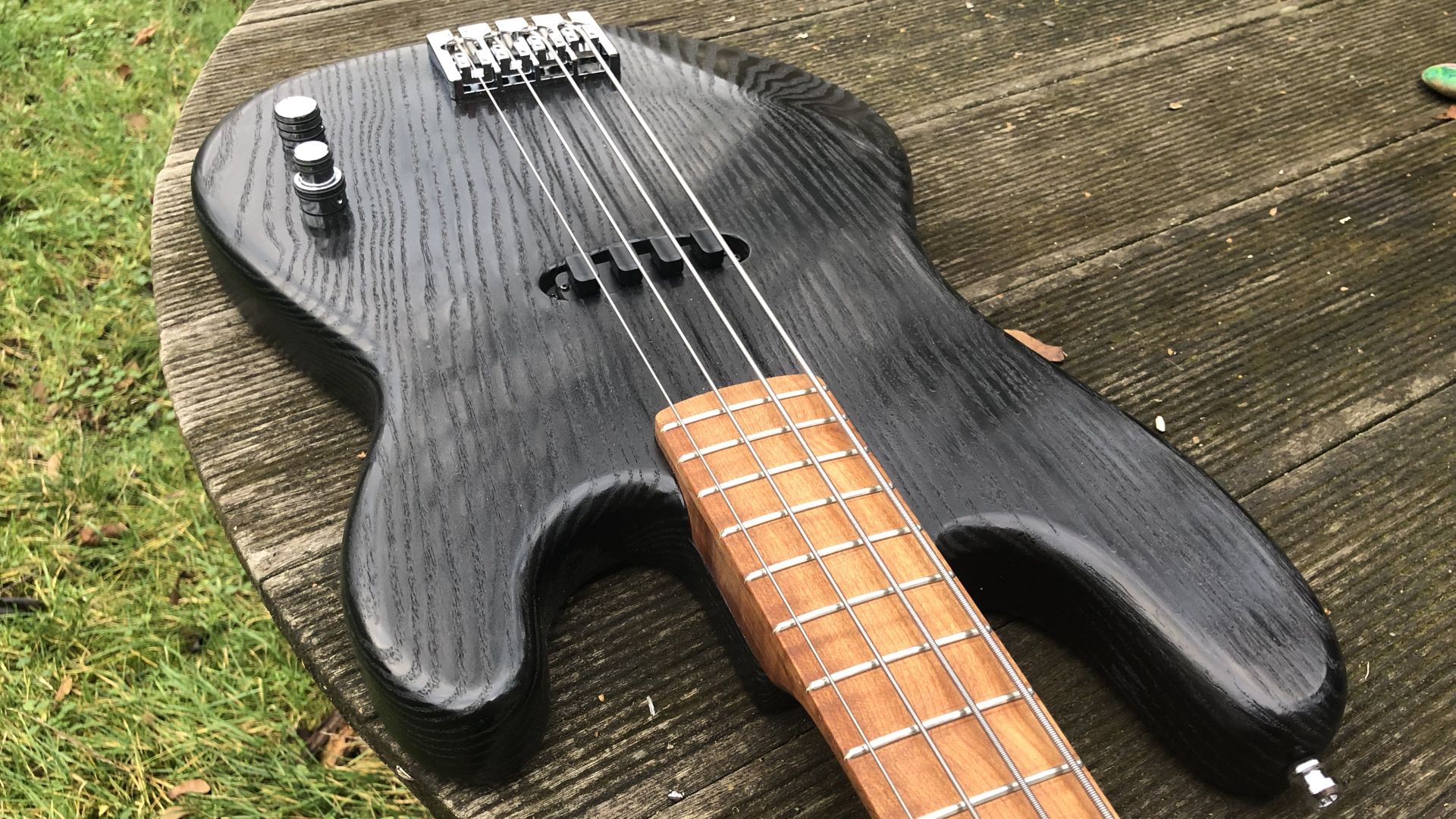 Not half bad to be hon­est. While I'm def­i­nite­ly not hap­py with ev­ery­thing, all in all it looks pret­ty good. And I even got a small un­ex­pect­ed bonus. The neck I got had a pret­ty sig­nif­i­cant (par­tial) flame to it, so I just had to oil it: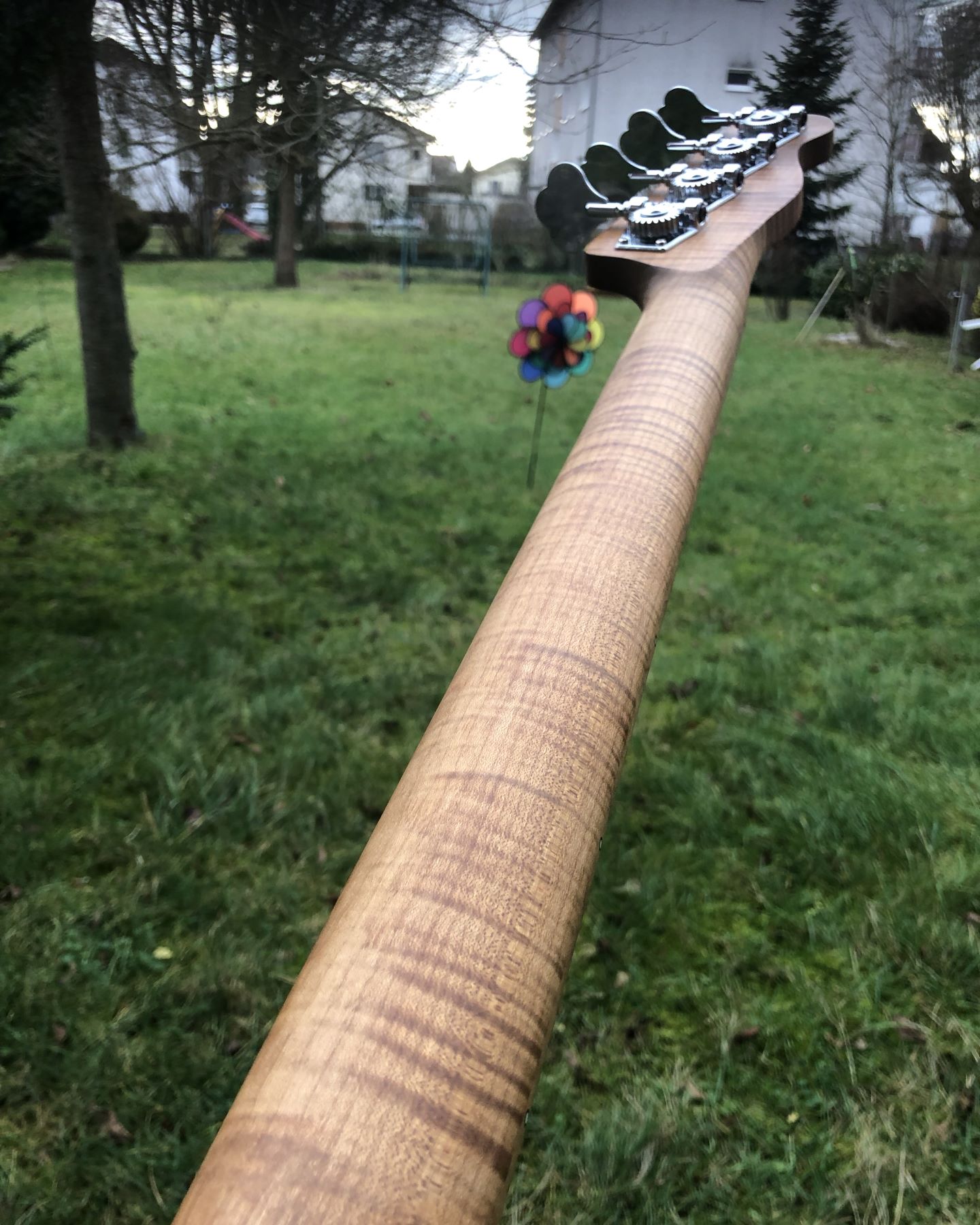 Beau­ti­ful! For those of you who like spec lists, and I know you're out there, here are the specs:
Ash body
Roast­ed maple neck
34" scale
Neck bolt­ed on with six ma­chine screws and thread­ed in­serts
Lu­min­lay side dots
Cy­c­fi poly­phon­ic Nu Mul­ti pick­up
jsAudio (a.k.a. me) cus­tom elec­tron­ics

Bal­anced line driv­er with P48 phan­tom pow­er
Res­o­nant SVF fil­ter with vari­able fre­quen­cy and res­o­nance

Graph­tech Black Tusq XL nut
Chrome hard­ware

Hip­shot A Style FM1 bridge
Graph­tech clas­sic clover­leaf Ra­tio ma­chine heads
Sand­berg string re­tain­er
Hip­shot O-ring knobs
Schaller strap locks
Is it fin­ished? Well… not en­tire­ly. In the cur­rent ver­sion, the elec­tron­ics were too large to fit in the elec­tron­ics cav­i­ty 😔. I have re-de­signed them, and they're cur­rent­ly on their way from the man­u­fac­tur­er in Chi­na. Fin­gers crossed they'll fit this time. I will prob­a­bly al­so need to shield it, since right now I have some hum and buzz is­sues (or it's a bad sol­der joint some­where). If the elec­tron­ics still don't fit I may have to add a sep­a­rate bat­tery com­part­ment, which may prove dif­fi­cult as I have no router. Al­though in the­o­ry it should be pos­si­ble with a Forstner bit and some chis­els.
In any case, that's it for to­day, and as usu­al, feel free to fol­low me and send me a DM on Mastodon if you have any ques­tions or com­ments. I hope I'll have an up­date by next month.