VST Plugins
These VST plug­ins are pro­vid­ed for free, un­der the con­di­tions found in the li­cense be­low. DO NOT re­dis­tribute them, or link di­rect­ly to the files. Link to this page in­stead. To use them, you re­quire a com­pat­i­ble VST host, and an SSE2 ca­pa­ble CPU.
All plug­ins Copy­right © Jo­hannes S. Mueller-Roe­mer; js­Comp­Shaper al­so Copy­right © Nick Moritz (Voger De­sign).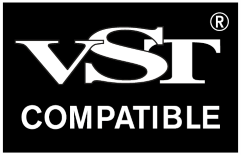 js­Comp­Shaper
Yet an­oth­er com­pres­sor, but this one has the abil­i­ty to morph be­tween soft-knee com­pres­sion and wave­shap­ing as de­sired. Fur­ther­more, it pro­vides pre-/post-em­pha­sis fil­ter­ing (sim­i­lar to a side-chain fil­ter) and a more ana­log-like at­tack than js­Comp (see be­low).
The GUI was de­signed by Nick Moritz (Voger De­sign).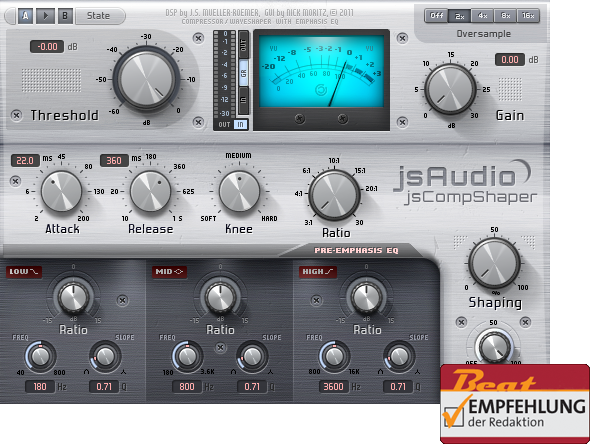 Down­load
The old, non-GUI ver­sion of js­Comp­Shaper is in­com­pat­i­ble with the cur­rent ver­sion. You can get it here: x86, x64
js­Comp
My first plug­in. A sim­ple hard-knee com­pres­sor fol­lowed by a switch­able brick­wall lim­iter. A short, po­ten­tial­ly in­com­plete man­u­al can be found here.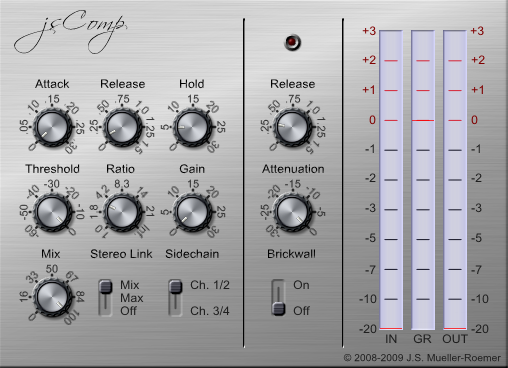 Down­load
js­Fad­er
A sim­ple fad­er/pan plug­in. For the rea­sons be­hind this plug­in, read here: http://fo­rum.cock­os.com/showthread.php?t=49809

Down­load
---
Li­cense
This soft­ware is pro­vid­ed free of charge but the au­thor(s) re­tains copy­right. You are not al­lowed to make any copies or re­dis­tribute this soft­ware in­clud­ing but not lim­it­ed to mak­ing the soft­ware avail­able for down­load or mak­ing this soft­ware part of a soft­ware CD com­pi­la­tion.
You are not al­lowed to sell or to rent this soft­ware. You are not al­lowed to re­verse en­gi­neer this soft­ware.
You are al­lowed to use this soft­ware for any artis­tic ap­pli­ca­tion in­clud­ing com­mer­cial mu­sic pro­duc­tion.
This soft­ware is pro­vid­ed 'as-is', with­out any ex­press or im­plied war­ran­ty. In no event will the au­thor be held li­able for any dam­ages aris­ing from the use of this soft­ware.
VST is a trade­mark of Stein­berg Me­dia Tech­nolo­gies GmbH, reg­is­tered in Eu­rope and oth­er coun­tries.
---